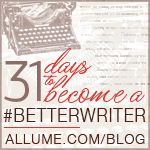 31 Days to Become a Better Writer - Day 20
Today's Challenge:
Today's challenge is two-fold. First of all, I'd like you to pick a book to read this week. You don't have to finish it by the end of the week. Heck, I don't even care if you ever finish it. You aren't reading to finish it, you are reading to refresh your brain and excite your perspective. This week, I want you to commit to read for ten minutes a day. It can be out of the same book, it can be articles in different magazines, whatever you want. Just read.

For the second part of the challenge, I'd like you to write about one of your favorite books. Why was it your favorite? Which character stole your heart? Perhaps the character made you cringe or caused you to ponder their actions.
Telling me to read is like telling a duck to quack. Reading has been a part of me for as long as I can remember. I always have a book (or twelve) that I'm reading, fixing to read, just finished reading, or am rereading for the zillionth time. I read in the car, I read in bed, I read in the bathtub, I read in my recliner, I read at coffee shops, I read at restaurants. Read, read, read, read, read.
Now, asking me to write about one of my favorite books is a whole other story. Because I read so much, it is very difficult to pick a favorite book. I have a shelf full of books that are my go to rereads so if I had to pick favorites, I guess it would be them.
The Complete Anne of Green Gables Series
,
Cold Tangerines: Celebrating the Extraordinary Nature of Everyday Life
,
Bittersweet: Thoughts on Change, Grace, and Learning the Hard Way
,
One Thousand Gifts: A Dare to Live Fully Right Where You Are
,
anything by Debbie Macomber
,
After Anne
...I could go on and on.
I think the thread that connects all these books is the real emotions of the female main character or in the case of the non-fiction books, the real emotions of the female author. I find myself in the pages of these books. My imagination of what it would have been to be that red-haired snippet Anne with an e, the desire for a bosom friend, the grief of losing a child, the friendships made through knitting, learning to find gratitude in everyday things. Books draw me in. I've lost so much sleep over books and I don't regret it one bit. Must run, I hear a book calling my name. :D
Image Credit