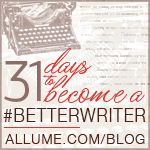 31 Days to Become a Better Writer - Day 15
Today's Challenge:
Write a post involving a recipe or a process, but try to infuse the post with your personality or thoughts. Don't over think this one. Brushing your teeth, cooking macaroni and cheese, and grocery shopping are all seemingly mundane processes, but they are intriguing when we see them from your perspective. Word to the wise, steer clear of the "and then I" syndrome.
Clickity clack. Clickity clack.
Needle through the stitch, left to right, front to back. Wrap the yarn, pull it through. Slip the stitch off. Sip of coffee.
Repeat. Repeat. Repeat.
The rhythm of knitting.
The rhythm of life.
This row, then the next.
Two sticks and a ball of yarn. Transformation.
What will it be? What will the work of my hands create?
A scarf, a hat, a shawl, a blanket, a treasure.
Clickity clack. Clickity clack.
Image Credit