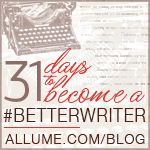 31 Days to Become a Better Writer - Day 16
Today's Challenge:
Pick two topics and brainstorm about them! If you don't have 3 x 5 cards on hand, just cut up a piece of paper into smaller pieces, or you could even just list the subcategories into groups on paper after brainstorming them.
I'm cheating! Well, actually not so much cheating as changing the assignment. The method of brainstorming written about in the assignment for today doesn't work for me, but I'll show you how I do brainstorm.
This is my blogging calendar/notebook. Isn't it pretty? <3 data-blogger-escaped-:="" data-blogger-escaped-br="" data-blogger-escaped-pink="">
This is two of the note pages in the calendar. As I think of new broad topics for my blog, I write them here. The topics typically become categories here on my blog. Sometimes two get merged together (like fibromyalgia and chronic illness).
This is the monthly calendar for next month, April. I write in pencil only on these calendars. When I'm ready to do some planning/brainstorming, I begin by writing in regularly scheduled posts (for example: on Monday I blog my 1000 Gifts/Joy Dare post, on Friday I blog my InstaFriday post, on Sunday I blog a prayer, on Saturday I blog my Stream of Consciousness Sunday post/link up for the next day, etc.). Then I write in the due dates of any reviews/giveaways or special events (for example: I have 2 reviews/giveaways I know that I'll be doing in April so those are written in on their due dates; I have two special events in April that I plan to blog about:
TOMS One Day Without Shoes
and
Compassion Sunday
). I also have written in the remaining days for the 31 Days to Become a Better Writer challenge. April is going to be a very busy month because I'll be participating in the
Health Activist Writers Month Challenge
as well. Then, each week, I sit down with my calendar and move around things that I want to change dates on (for example, I might do a review/giveaway post a few days before it's due date) - thus the reason I write in pencil. I've already written in some brainstorming ideas for posts in May which I'm sure will get edited or moved around before then. I keep my blogging calendar handy so I can jot down notes whenever they pop into my head or whenever I get a new assignment. I do mark things completed on the calendar so that I can see what I've done and what I still need to get done. :D
So this is my blogging brainstorming strategy. I hope it makes sense. Feel free to ask questions. Do you brainstorm a different way? I'd love to hear your strategies!