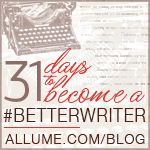 31 Days to Become a Better Writer - Day 18 & 19
Today's Challenge:
Today is all about parameters and staying within them. On our personal blogs we control the word count, but someday you may need to craft within the framework of certain parameters and this exercise is designed to help you practice that. So, since Easter is coming up and that makes me think about holidays, I want you to write about your favorite holiday and why it's your favorite. Be creative. I know you all are super creative! There's a catch, though. 300 words. Max. I know, I'm such a party pooper. Okay, what are you waiting for? Write! Now! Right now.

and

Create. Color, draw, bake, cook, build with Legos, sew, play with playdough, whatever medium you prefer, use it to create. Do you play an instrument? Try picking it up and see what happens. If you still feel like writing afterwards, Lisa-Jo's Five Minute Friday is a great (and quick) link-up!
A day late (and a dollar short). My apologies. Had a rough day yesterday and just couldn't write.
White lights. Blue lights. Pink lights too! The lights have been gleaming non-stop for 30ish days. Tradition dictates that decorations go up during the Macy's Parade on Thanksgiving Day. Decorations come down on New Year's Day during the Rose Parade. What can I say, we really like parades!
Tradition also dictates Christmas Eve. We attend a service at church. Dinner of little smokies, cheese, chips, dip, and sweets awaits us at home. Reading about Jesus' birth from Scripture and praying together comes next. The youngest person in attendance (or a combination if the youngest person is a baby - like my nephew Wyatt who was 9 days old last year - or can't read - like my niece Lola who is 3 years old - so Damaris, the next youngest helped out) then hands out the presents from under the tree one at a time. We watch the person open their gift and all get to appreciate it before we move on to the next gift. We're usually up until midnight or later enjoying our time together.
Christmas morning is much fun for the kiddos as Santa has come overnight and filled everyone's stockings with little goodies. The rest of the day is spent celebrating the birth of Jesus our Liberating King and spending time with those we love (and enjoying some yummy food too!).
And my favorite gift ever you ask? Not a traditional gift, but celebrating our first Christmas with Damaris. She was 2 months old - our precious gift from God! Then, 3 years ago, we celebrated with my niece Lola who was 3 months old. And this past Christmas with my nephew Wyatt who was 10 days old. It's not about the gifts for me, but about the love from above, from beside, from all around.
Damaris' 1st Christmas
Lola's 1st Christmas
Wyatt's 1st Christmas
Woot! 300 words exactly! :D I'm fixing to work on a knitting project. And I wrote about the 5 Minute Friday prompt without even knowing it! Score!
Image Credit