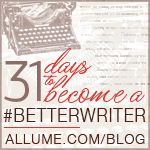 31 Days to Become a Better Writer - Day 17
Today's Challenge:
Write a stream of consciousness post. All of you are wonderful writers so I know there will be no shortage of words. Remember, don't pretty this up too much, just check for gross spelling errors and such–ie. don't use ain't unless you are speaking in a particular vernacular that would make it appropriate.
Stream of consciousness? Are you really sure you want to hear all this? Well, you asked for it. I'm really tired. Busy afternoon and an appointment first thing tomorrow morning. That means I have to get up and around early which is a tough thing for me. Good news - Russ is scheduled for an extra day of work next week. That will help with the finances. I have now officially applied for disability. Hopefully things will go well with that. Prayers gladly accepted! I thought I had something else to say but my brain has gone into a fibrofog. By the by, Damaris has been participating in the 31 Days to Become a Better Writer challenge with me. You can see her posts on
her blog
. Damaris and I went to knit night at Yarnies for the first time last night. The ladies were so nice and it was good to get out of the house. Just wish I didn't have to save up several days worth of spoons in order to go. I guess that's about it for my stream of consciousness. I'm not very conscious tonight, so...
Image Credit