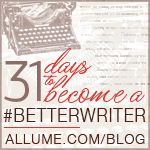 Today's Challenge:
Write a paragraph or two, about the equivalent of a blog post, so we're talking around 300 words. It can be about anything you want. Then save it where you won't lose it. Later, at the end of this series we're going to look at it again and make it better, but you can't improve on writing that has yet to be written, so get to it!
This isn't at all how I expected it to be! For years I had searched, struggled, longed for an answer. I knew God was calling me. But to what? I plodded along, sure the answer was just around the next corner. And yet, the spotlight never stopped looking.
Then, as quietly as a child sneaking out of her bed, the answer crept up on me. A chaplain! Working with those who are ill, drawing their last breath, saying goodbye to one they hold dear. Walking the journey with them, even if the distance was short, being the presence of the Liberating King, offering my time and myself to listen, to hold, to comfort, to be.
Crash! The sound of things falling apart. I am the one who is ill. My broken body full of pain, fatigue, depression, anger. A cane and then a wheelchair is required to do my work. And still, even then, less and less of the time am I able to minister.
Now I spend much of my life in bed, the exhaustion and pain overwhelming all of me. I cannot make plans for I am unsure from day to day whether I will be able to function as a human. My husband caring for me "in sickness", "in sickness", "in sickness"...where is "and health"? My twelve year old almost a woman daughter now brings me food and drink. A strange and twisted reversal of roles.
The answer that I had searched for no longer is correct. My body betrayed me, and yet the desire to serve, to minister, to journey is still ever present. Can you still use me God? How can I be? This isn't at all how I expected it to be!
Whoa! I started writing and all this just came pouring out of me. I almost just deleted it all because it feels so vulnerable to share these words. I'm sitting in the coffee shop writing this and wiping the tears off my face. But I'm choosing to hit the publish button anyway.